Will I See You in 2024?
Nov 13, 2023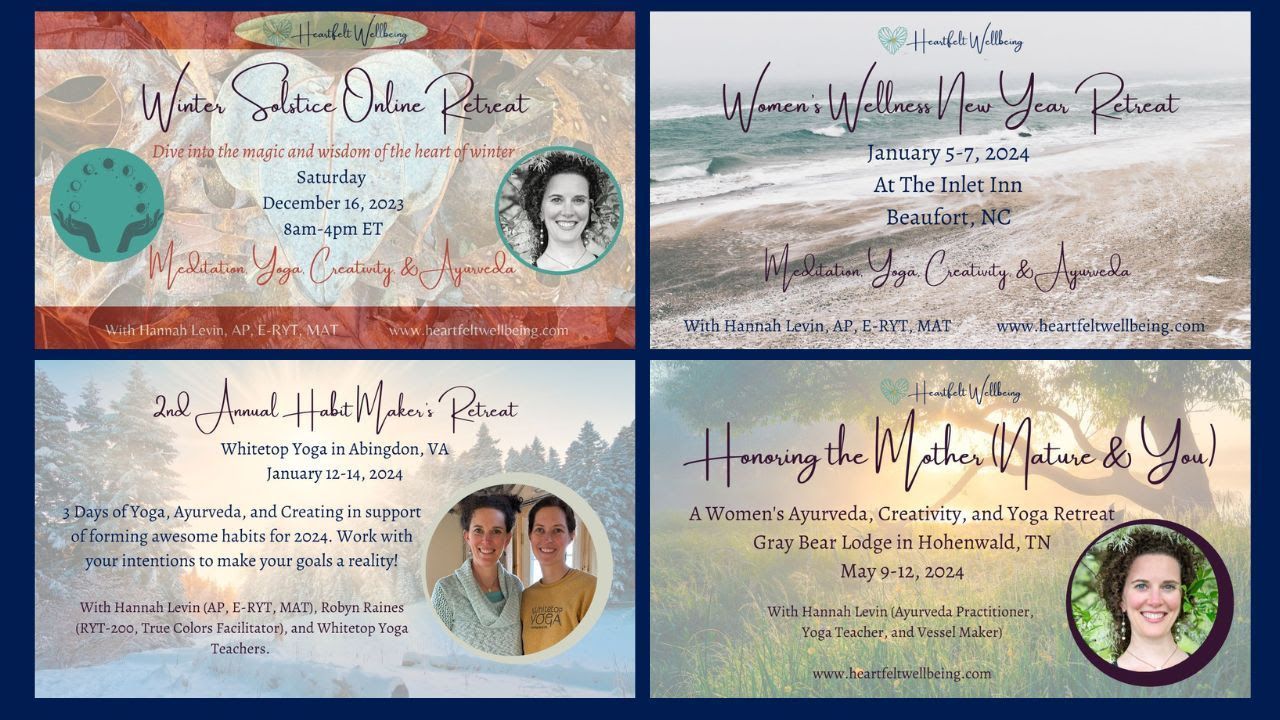 A friend recently said to me, "Hannah, you are a vessel maker! You started when you were young making vessels out of clay, and while that has continued, you now make vessels that are transformational containers for women who are blessed to work with you."
This reflection blew my heart wide open. Yes!! I AM A VESSEL MAKER! The titles of Ayurveda Practitioner or Yoga Teacher often feel too confining and limiting. My joy is connecting in community to share and facilitate joyous and authentic evolution. Being with groups of women in-person is feeling more and more important these days.
In-person retreats allow me to bring all of the gifts I have to share into a focused, transformational container to live into our individual and collective potential.
With this in mind, I am excitedly sharing several upcoming opportunities to join me for a retreat in early 2024! Each retreat is different and nourishing in unique ways. (You might even want to get wild and sign up for more than one!!).
Do yourself a favor and register asap. Get these on your calendar now, so you know you have carved out time for YOU in the coming months after the holidays.
RETREATS ARE SUCH GOLDEN GOODNESS!
(By the way...The last opportunity to do an online retreat with me this year will be the Winter Solstice Retreat, happening on December 16th, from 8am-4pm ET. Join from the comfort of your own home or gather with friends to participate. This Solstice, we will be making a moon calendar for 2024 as well as diving into yoga, Ayurveda, and community connections for the Winter season.)
If this all sounds exciting to you, block out these 2024 dates out and sign up asap (more info HERE):
Women's Wellness New Year Retreat in Beaufort, NC - Jan 5-7. We will be gathering at the amazing Inlet Inn and getting the new year off to a great start with yoga and Ayurveda.
Habit Maker's Retreat (co-leading with Robyn Raines and Whitetop Yoga teachers) in Abingdon, VA - Jan 12-15. This retreat is at the fabulous Whitetop Yoga Studio and focuses on creating habits of health and creativity for the year ahead.
Yoga, Ayurveda, and Sacred Creativity Retreat in Uvita, Costa Rica - Feb 10-15 (only one spot left). A deep dive into the senses and correlating elements in tropical lusciousness.
Nourishing the Mother (Earth and You) in Hohenwald, TN- May 9-12. Connect deeply with nature's Springtime beauty and rejuvenation during this Mother's Day weekend retreat at the magical Gray Bear Lodge.
All of these in-person experiences bring together Yoga, Ayurveda, personal evolution, and creative practices. You do not need to have prior experience in any of these areas, but a willingness to explore and get curious is required. Again, you can learn more about all of these in-person opportunities HERE.
"I've done several in-person retreats and you can participate as much as you want - No pressure what-so-ever. They are so enlightening and really contribute to your self evolution, whatever you are looking for. Hannah makes them so much fun. There are so many wows and surprises. Hannah is a gift from the universe. She is so receptive and intuitive for everyone that is there. Whatever you need from Hannah she is right there, she keeps things moving. I can't say enough about the in-person retreats." - Judi M.
"Hannah is amazing, her retreats are transformative, healing and inspirational." Grace K.
Sending you lots of love while you celebrate, navigate, and rest as 2023 comes to a gentle close. Get something inspiring on your calendar for 2024 NOW!
I hope to see you in real life very soon!
Much love and light,
Hannah
Download the Doshic Clock so you can live in rhythm
for health and happiness.
Doshic Clock